The current market is saturated with a wide variety of marketing firms and it can be challenging to determine which ones align with your business's goals.
Moreover, there has been a notable industry shift from traditional marketing methodologies to more performance marketing approaches that prioritize data-driven acquisition and scaling.
These are measurable and testable strategies based on various metrics. The usual tactics and practices—such as SEO, PPC, and SEM—are still at play here but the most successful marketing firms are the ones who let the data and/or numbers drive their overall strategy.
In terms of online and digital advertising, performance-based marketing focuses on the real-time results and traction that ads or social media content receive. There are also plenty of platforms, such as social media management tools, that can be leveraged by marketing agencies and businesses to track post performance and other analytics. 
Through an assessment of ad performance, businesses can earn a higher return on investment (ROI) more efficiently and with lower risk. In other words, when you know what works best for your brand, you can create a targeted marketing strategy that maximizes reach.
How to Look for a Good Performance Marketing Agency
Tailored Strategy
As mentioned in our Top Growth Marketing Agencies post, avoid firms that champion a one-size-fits-all model. Depending on your business's goals, many firms work in niche or particular industries that may make them a more suitable and strategic choice.

For instance, if you are developing a makeup brand, you might want to research firms that specialize in the beauty industry. Insider knowledge and expertise are essential to targeted marketing that yields high ROI.

If an agency doesn't have a niche field, make sure that they provide a marketing strategy that is tailored to each unique brand or client.
Range of Services
The best agencies offer a comprehensive range of channels and services that can be utilized to build successful marketing campaigns. Below are some of the common and popular services you should expect:

Search Engine Marketing–SEO, keyword integration, ads on major search engines like Google and Bing
Native Advertising–mimic content, design, and writing styles of specific web pages to strategically positions ads
Social Media Advertising–increase visibility and traffic on social media platforms i.e. Twitter, Instagram, and Facebook
Affiliate Marketing–partner with other businesses and brands that can market your products or services
Display Marketing–develop brand aesthetic, design, format, images, videos, content, banner ads, etc.
Performance-Based Metrics
You want to see and experience results. Your business's ROI should be apparent in the measurable outcome of an agency's marketing plan. Some of these metrics include:

Brand awareness
Marketing Qualified Leads (MQL)
Sales Qualified Leads (SQL)
Lead Conversion Rates
Customer Engagement
Customer Acquisition Cost (CAC)
Technology Infused
We are in 2021 and that means a level of technology should be built-in to your digital marketing strategy. Whether it is data-backed decision making through platforms such as SEMrush, or unique platforms created to manage your entire campaign such as with our Account Plan created at Brenton Way.
Here is a curated list of 24 top performance marketing agencies that excel in the industry.

Brenton Way's dedicated team helps brands and businesses produce measurable results through their extensive analysis of critical metrics. Recognized by media outlets like Forbes and Entrepreneur, this agency builds creative, tailored brand and marketing campaigns for its clients.
Key Services
SEO
Social Media Management
Digital PR
Content Creation
Brand Strategy
E-commerce
Brand Conversion Optimization
Paid Media Ads — Google, Display, Native, Bing
Paid Social — Facebook, Instagram, LinkedIn, TikTok, Snapchat, Pinterest

As a leading marketing consulting firm in Silicon Valley, Right Side Up elevates the best tech startups and finds the best product-market fit. They have helped scale big companies like Doordash, Sephora, and Fitbit.
Key Services
Performance Marketing
Product & Lifecycle Marketing
Offline Marketing—Podcasts, Radio, TV
Amazon
E-commerce
Direct to Consumer

As the name suggests, this agency is all about growth and results. They run data-driven experiments to maximize clients' conversion and ROI. As a result of these experiments, they have impressively helped 100+ companies grow and generate over $274M in revenue.
Key Services
Email Marketing
Analytics
E-commerce Marketing
Lead Generation
Social Media Marketing

NoGood is a leader in the performance marketing industry and primarily works with startups and enterprises. They emphasize data-driven growth through strategy, communication, and transparency.
Key Services

Solid Digital focuses on developing the best digital marketing and web design portfolio to maximize growth. They've worked with companies like Hilton and Deluxe and won awards for their web and UI/UX designs.
Key Services
SEO Advertising
PPC Advertising
Web Design & Development
App Design & Development
UI/UX Design

This agency has developed digital marketing strategies for over 3,000 companies through advanced analytics and scalable marketing results. Its noteworthy clients include Fandango and Adobe.
Key Services
Analytics and Business Intelligence
Email Marketing
Audio Ads — Spotify & Pandora
Paid Search — Google & Bing
Paid Social — Facebook, LinkedIn, Twitter, Pinterest
OTT — Hulu & YouTube
Conversion Rate and Website Optimization

I guess you could say this agency's impact on businesses is 'massive'. Their creative specialists provide a variety of services, such as digital content and design, to boost brands like Microsoft and Samsung.
Key Services
Brand Identity & Positioning
Web Design & Development
Digital Products & Services
Advertising & Branded Content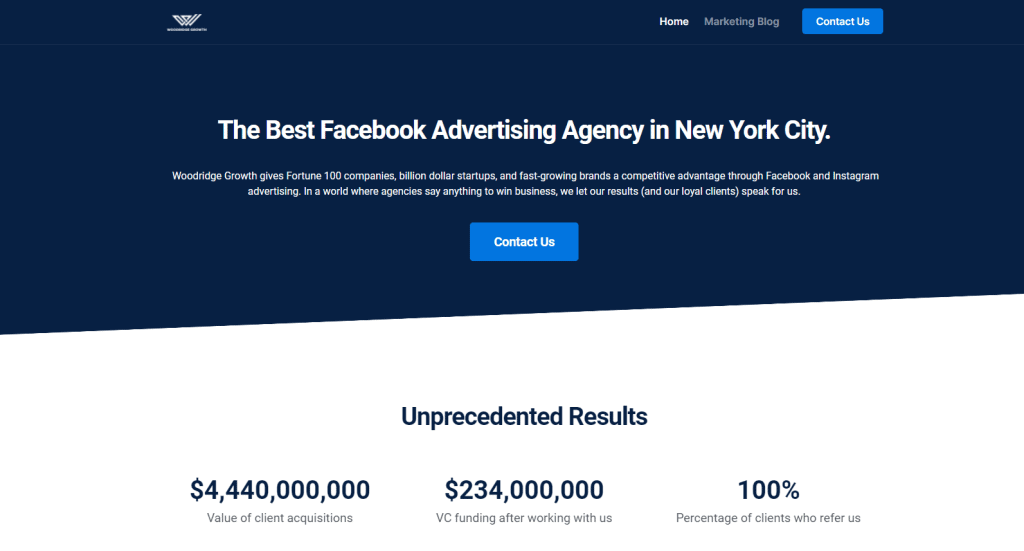 Woodridge Growth is a powerhouse in growth hacking and/or performance-based growth. Specializing in Facebook and Instagram Marketing, they have worked with big companies like Goldman Sachs and Jet.com to deliver excellent results on a global scale.
Key Services
Facebook & Instagram Advertising
Customer Acquisition
E-commerce Marketing
Apple Search Ads

Yes, it's in the name. CRO Metrics is all about experimentation and personalization programs that drive growth. They offer a wide array of robust analytics used to optimize all the important aspects of a business.
Key Services
Lead Conversion
E-Commerce Marketing
Marketing & Sales Optimization
Product Optimization
SaaS
Advanced Analytics

Growthcurve is dedicated to reinventing the way tech companies grow. They use innovative marketing tactics and high-frequency iterative experimentation to deliver substantive results for their clients.
Key Services
Data Science
Viral Marketing
Mobile Marketing
Conversion Optimization
Creative Design

Superbolt's expertise lies within brand launch, D2C expansion for retail and distribution, and rapid growth advertising. From beginning to end, they provide businesses with a range of services that target marketing, creativity, data analysis, and other marketing channels.
Key Services
D2C Expansion
Brand Launch
Incremental Spend Optimization
Market Asset Creation

Berma is a unique growth lab and product studio. They have worked with companies like Citibank and Ford to find product-market fit through high-speed experimentation, advanced prototypes, and the funding of new product ideas.
Key Services
Validation Lab
Content Marketing
Performance PR
SEO & PPC
Social Media
Video Ads
Product Studio

Bell Curve has worked with some of the largest tech startups. Through custom growth projects and training, they leverage funnel optimization, performance marketing, ads, data, and content to help brands grow.
Key Services
Ads
Content
Funnel Optimization
Brand
Creative

As a top growth marketing firm in consumer technology, they build and manage paid search and social programs that help rapid growth brands. They also specialize in mobile and digital commerce.
Key Services
Paid Search
Paid Social
Product Analytics
Attribution
Growth Strategy
Creative Production

Directive is a performance marketing agency that works with many software brands. They also specialize in paid media services and have created a search marketing database and a digital learning system that improves business sales.
Key Services
PPC Management
SEO Management
Paid Media Services
Analytics Management
Conversion Rate Optimization
Digital Intent is an advisory and product development firm that employs strategies crafted through their experiences in corporate advisory, venture capital, start-ups, and academia. They have helped create and brand innovative tech products.
Key Services
Portfolio Design & Monitoring
Product Development
Data & Analytics
DI Growth Ventures Platform
Power Digital offers an augmented digital marketing experience by providing a platform to manage client campaigns and collaborate with team members to track performance and make data-driven marketing initiatives.
Key Services
SEO & PPC Management
Conversion Rate Optimization
Email Marketing
Public Relations
As a growth marketing agency, they do it all. They specialize in strategy, media, UX, website development, and a plethora of other services. They blend commerce and creativity to maximize a brand's reach.
Key Services
Strategy
Content
Design
Media
Technology
E-Commerce

Thrive is a leading SEO company that offers a wide range of results-driven marketing strategies. It is also a Google Premier Partner and was a Fort Worth Inc.'s Entrepreneur of Excellence Award Nominee in 2018.
Key Services
SEO & PPC Management
Reputation Management
Web Design & Development
Video Product & Content Writing
Amazon Marketing
Conversion Optimization
Email Marketing

GLA believes clear branding and strategy are the basis of growth marketing. They approach marketing campaigns holistically by offering creative, customized services that satisfy core business goals.
Key Services
Marketing & Transformation Strategy
Social Media & Content Marketing
Design & Branding
Web Design & Development
SEO & SEM
Influencer Marketing

Crafted helps businesses cultivate their brand identity and specializes in brand storytelling, content marketing, web design, and a range of other services.
Key Services
Branding
Content Marketing
Design
Technology

As a newer agency, Klint is already making great strides in the digital marketing industry. Their highly-skilled team focuses on creative and data-driven solutions to revamp brand marketing strategies cost-effectively.
Key Services
Conversion Rate Optimization
Creative Content
Guerilla Marketing
Inbound Marketing
Innovation
Public Relations
SEO Management

This agency primarily works with startups and small to medium-sized businesses. They help grow these brands through product development, technology, and strategic marketing.
Key Services
IoT & Edge Computing
Enterprise Workflow & Collaboration
Employee Management
Mobile Apps
Web Design

3 Media Web specializes in web design and digital marketing, so they understand the intricate details of increasing web traffic and leveraging online engagement to boost ROI.
Key Services
SEO Management
Content Marketing
Lead Generation
Web Design
Reporting & Analytics