Sometimes you've got to leave it to the experts. Developing and implementing a marketing plan can be a huge undertaking, especially if you don't have the knowledge or skill set. It's also difficult to monitor and balance it with all the other operations of your business.
So, if you're running any sort of business or brand that wants to expand, collaborating with a growth marketing agency or firm can be a strategic and convenient choice. They can provide the best tools and approaches to maximize your brand's reach.
The Role of a Growth Marketing Agency
These agencies coordinate all of the important aspects of a company's online marketing and advertising services. Below are some of their main functions:
Evaluate website and social media traffic to identify the best platforms to focus on and develop
Refine brand identity to align with target market or consumer demographic
Monitor marketing activities and campaigns through analytics
Revamp a company's digital presence in various areas, such as brand aesthetic, SEO (search engine optimization), and website content
Benefits
A growth marketing agency can employ holistic and effective strategies that attract
leads or potential customers. And once these customers invest in your products or
services, this generates long-term revenue growth for your company.
With a tailored and successful online marketing strategy, your company can significantly
decrease the cost of lead generation. This is because your marketing plan will precisely
aim for customers who are more likely to engage with your brand. Therefore, you
waste less time and money trying to appeal to non-target customers.
` Growth marketing agencies have access to cutting-edge software and technology that
provide your business with measurable results. These tools not only help them craft the
best marketing approach, but produce timely reports integral to the success of this plan.
How to Pick a Good Agency
Scalability and Adaptability
Always look for a firm that can adapt its tools and services to your business's size, needs, and preferences. Your brand is a unique entity with specific strengths and weaknesses, and it should be treated as such.
A holistic and diverse range of tools and tactics should be employed by an agency to address critical factors of your brand growth, such as content marketing, link-building campaigns, SEO strategy, and social media management.
As mentioned before, these agencies have access to innovative technology—such as advanced reporting tools—that allows them to analyze data about your business's success. In other words, they should be able to provide you with accurate and measurable results of their marketing services.
Now that we've established general criteria for assessing the quality of an agency, below is a list of the top 23 growth marketing agencies in 2021.


Brenton Way is a fresh, upbeat agency that leverages innovative technology and unique marketing campaigns through a streamlined service called an account plan. Their creativity and analytics will help your brand hit its marketing targets.
Key Services
Social Media Management
SEO
Digital PR
Influencer Marketing
Brand Strategy
Brand Conversion Optimization
Paid Media Ads — Google, Display, Native, Bing
Paid Social — Facebook, Instagram, LinkedIn, TikTok, Snapchat, Pinterest

Nogood prides itself on being unique and different from traditional marketing agencies. They describe their approach as a scientific pursuit to maximize a brand's revenue potential through strategy, communication, transparency, and data.
Key Services
SEO Content Marketing
SEM/PPC
Social Ads
CRO
Email Marketing
Video Marketing
SMS Marketing
Performance Branding


This agency is an excellent option if cost-effectiveness is the main priority of your business's marketing goals. They focus on reallocating wasted funds, utilizing robust analytics, and scaling marketing results.
Key Services
Analytics and Business Intelligence
Email Marketing
Audio Ads — Spotify & Pandora
Paid Search — Google & Bing
Paid Social — Facebook, LinkedIn, Twitter, Pinterest
OTT — Hulu & YouTube
Conversion Rate and Website Optimization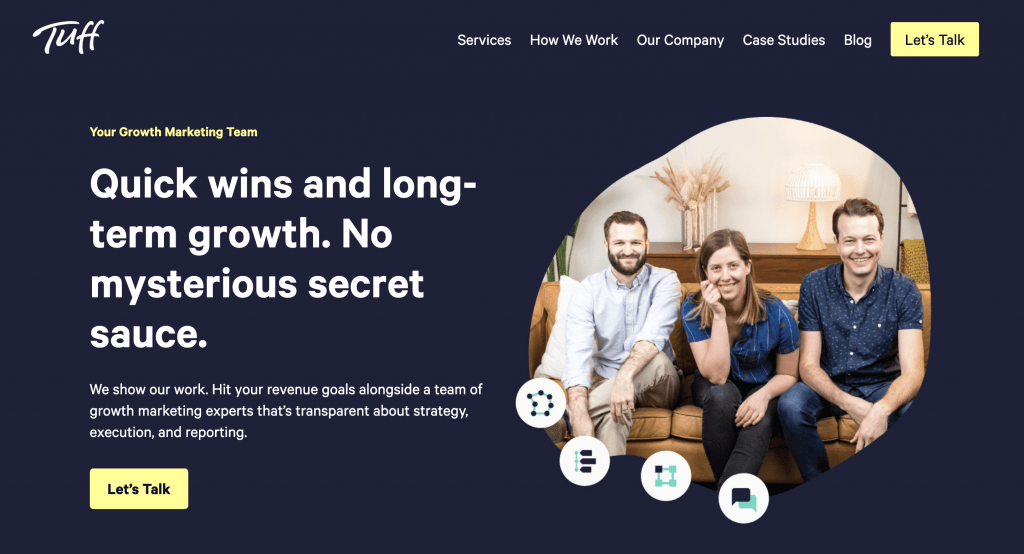 Tuff is a growth agency that provides 3 simple price solutions for companies looking to build their digital marketing presence. They create rapid experimentation solutions to allow companies to quickly learn and adapt to their marketing plan.
Rapid Experimentation
Conversion Optimization
SEO Management
PPC Management
Content Creation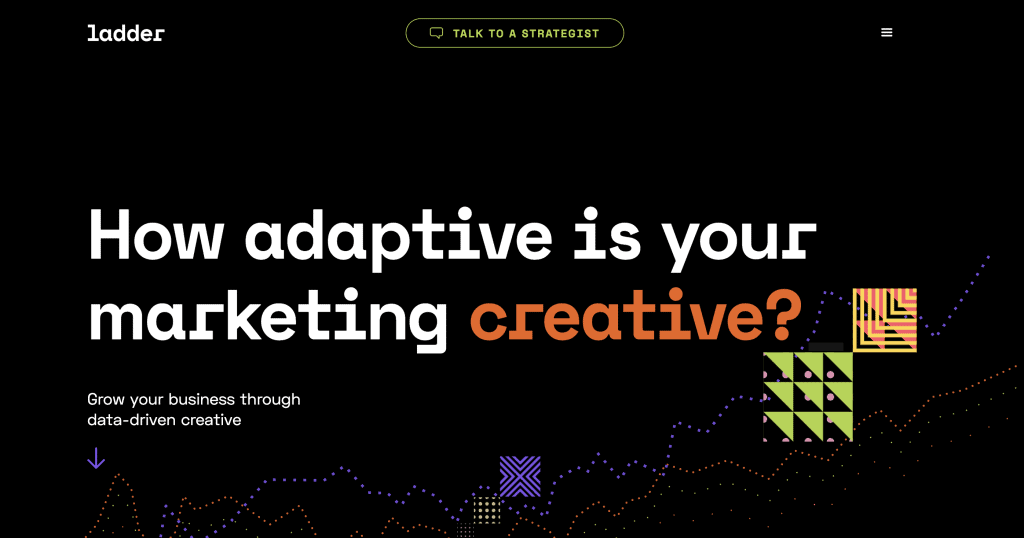 Ladder takes an unusual approach to digital growth by focusing on data-driven insights gathered and combining them with multiple design creatives that can scale for growth. Their goal is to constantly improve your KPI's as they improve your funnel.
Marketing Strategy
Data-driven Design Iterations

Conversion Optimization

Thrive is a leading SEO company that focuses on internet development that is strategic, technical, and creative. It offers a wide range of quality digital marketing services.
Key Services
SEO and PPC Management
Reputation Management
Web Design and Development
Video Product and Content Writing
Amazon Marketing
Conversion Optimization
Email Marketing


Avalaunch specializes in developing creative, omni-channel marketing campaigns. They also focus on industries such as consumer products & services, healthcare, and information technology.
Key Services
SEO Management
Content Marketing
PPC Management
Public Relations
Web Design and Development
Marketing Automation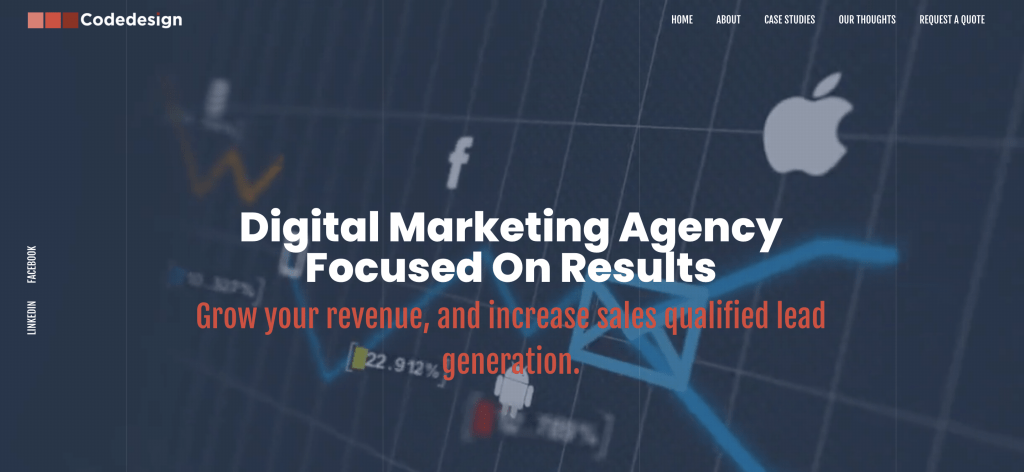 Codedesign is a digital marketing agency that puts client retention and revenue as its driver for success. They are an Amazon Marketing Partner and have produced a consistent 86% retention rate and 4x the amount of client recommendations than former agencies.
Key Services
Amazon Ads
Google Ads
Content Marketing
Lead Generation
Social Media

Reporting and Analytics

Straight North is a full-service internet marketing company that helps B2B and B2C brands generate sales leads and e-commerce revenue. Their strategies are characterized by technical expertise and collaborative campaign execution.
Key Services
SEO and PPC Management
Display Advertising
Graphic Design
Email Marketing
Custom Web Design

This leading performance marketing agency is dedicated to increasing sales leads through social media and content marketing. Silverback is a convenient option for full-service digital marketing and advertising.
Key Services
Performance Creative and Video
Paid Search
Paid Social
SEO Management
Data Integrations
DIsplay
Web Development

Championing the 5 (T)s of Tracking, Technology, Testing, Team, and Transparency, Perfect Search Media develops custom marketing strategies for companies. They also place a big emphasis on mobile in addition to SEO, design, and other key elements.
Key Services
Social Media & Amazon Advertising
Paid Search
SEO Management
Display & Design
A/B Testing
Content

Not to be confused with Ignite Social Media Company, this online marketing agency strives to achieve the "R's" of customer satisfaction: relationships, responsiveness, and results. They provide custom solutions and plans tailored to clients' business objectives.
Key Services
SEO and PPC Management
Conversion Rate Optimization
Website Design and Development
Email Marketing
Public Relations
Amazon Marketing
Franchise Marketing

Directive is an innovative performance marketing agency that many software brands trust. They also specialize in paid media services. Their ingenuity has led them to create Pulse and Institute, a premier search marketing database and a digital learning system that increases business sales, respectively.
Key Services
PPC Management
SEO Management
Paid Media Services
Analytics Management
Conversion Rate Optimization

PSB is not your traditional growth marketing agency. It specializes in global custom research and analytics consultancy that merges people, science, and business. They help their clients address brand, business, and communication challenges.
Key Services
Branding and Reputation Management
Communications and Advertising
Crisis Management
Issues and Advocacy
Product and Services Insight
Stakeholder Engagement
Coalition is a great option for businesses that want to focus on e-commerce design and web development. The company works in a diverse range of industries and has proven results in lead generation.
Key Services
SEO Management — E-commerce, Lead Gen, Local, Amazon
Web Design
Paid Social
SEM
Email Marketing

SmartSites is a web design and digital marketing company with a winning formula focused on search engine marketing services. This agency helps businesses increase their website ranking organically through engaging content and link building.
Key Services
Web Design
SEO Management
PPC Management
Advertising
This firm helps brands grow through intelligent digital advertising and creative conversion rate optimization. They also focus on team building and expansion.
Key Services
Search Engine Marketing
Ads — Bing & Google
Paid Search Marketing
PPC Management
Landing Pages
SEM
CRO
LPO

Fractl boosts brand awareness by optimizing web design, UX/UI design, social media marketing, and advertising services. They also excel in lead generation and link-building campaigns.
Key Services
Technical SEO
Content Development
Digital Public Relations
Web Design
UX/UI Design

This digital marketing agency and consulting firm excels in digital strategy and other related services. They focus on data-driven insights developed for a long-term growth strategy.
Key Services
Paid Media
Social Media Management
Brand Strategy
SEO & PPC Management
Web Design
MarketSmith will help you develop the best combination of words to tell your brand's story. This is a unique copywriting agency that delivers spot-on strategic copy and content. They produce complex B2B narratives that enhance brand identity and engagement.
Key Services
Blog Topic Development and Writing
Case Study Interviews and Testimonials
Website Content Strategy and Copywriting
Email Copy
Lead Gen Campaign Writing
Video Script Writing
Sales Deck Strategy

As a leading UX/UI design service provider, WebMechanix specializes in growing middle-market companies efficiently and sustainably. It is also a performance-based marketing firm that excels at producing results—so much so that it became a premier partner of Google.
Key Services
SEO Management
PPC Management
Email Marketing
Marketing Automation
UX/UI Design Services
Conversion Optimization

LYFE is a social media management company that excels in Facebook Marketing, Instagram Marketing, and Google Marketing services. They offer a comprehensive array of social media services such as SEO and web design to help businesses expand.
Key Services
Social Media and Advertising Services
PPC Management Services
SEO Management
Website Design

With almost 20 years of experience, 3 Media Web is a great choice for your brand's digital marketing and web design needs. They are all about the details and are involved in every step of the process, including backend development.
Key Services
SEO Management
Content Marketing
Lead Generation
Web Design
Reporting and Analytics