In 2021, at least 91 percent of all U.S. businesses spend billions on social media—a powerful marketing tool that can be strategically leveraged to elevate brand awareness and attract potential customers or clients.
Regardless of the product or service, the most popular B2C and B2B marketing platforms include Facebook and Linkedin with Twitter being ranked second in usage for both industries.
That being said, businesses are typically juggling multiple social networks and it can be an overwhelming task to manage. Without the proper strategy or software, it is difficult to execute marketing plans and assess the results of these efforts.
What is a social media management tool?
A social media management tool is a potential solution to the daunting task of monitoring and managing all of your business's social media networks. On a basic level, this software is designed to streamline everything into a single platform that allows the user to:
share and schedule content on social networks
respond to customer replies and comments
track post or content performance
access advanced analytics
As a business, a good social media management tool can be essential to your growth and success. It can give you access to quantifiable data that can improve your customer relationship management (CRM) by providing detailed and nuanced information about customer interactions.
You want to effectively market your brand to the appropriate target audience and maximize customer satisfaction by understanding their wants and needs.
What makes a social media management tool "good" in 2021?
While there are many to choose from, this article will highlight popular social media management platforms like Hootsuite and Buffer based on criteria that encompass key elements.
Please note that these are broad factors to consider, so you'll want to determine the best tool for your business based on a personal assessment of your business's budget and goals.
Does it provide insightful data that can be used to improve your marketing strategy and maximize reach? In addition to basic scheduling and posting features, a good tool should give you data or feedback on post performance, social media traffic, demographic information about consumer engagement, other CRM analytics, etc.
Does it support at least 4 of the major social networks: Facebook, Instagram, Twitter, and LinkedIn? You want a tool that maximizes reach and engagement by covering a majority of the most-used platforms.
Is it affordable? Is it worth the price? Every business has a budget and you want to make sure that you're receiving an optimal level of service for your financial investment. Luckily, most of these platforms offer a free trial period to test out their features before you make a full commitment.
16 Best Social Media Management Tools in 2021
Buffer
Sprout Social
Sendible
Hootsuite
Agorapulse
ContentStudio
Loomly
Planable
Mav Social
CoSchedule
Falcon
HubSpot
Growbase
Sked Social
Oktopost
Canva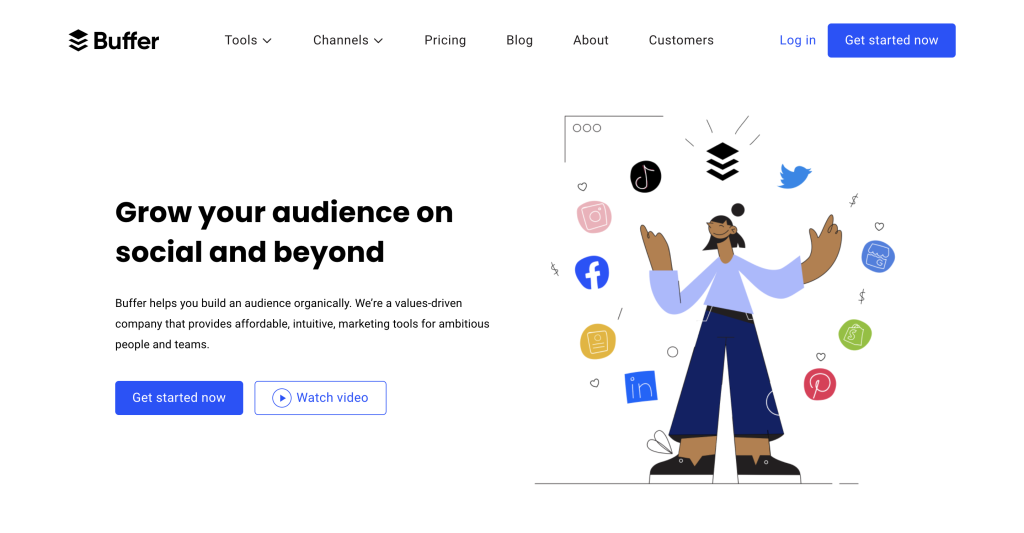 Buffer is an easy-to-use platform with an awesome calendar view feature that can help you schedule posts on your social media accounts. Its range of features is similar to Sprout Social but you have to pay separately for analytics. With its affordability and management features, Buffer is suitable for all business sizes.
Pricing: $0-$99/month | $35-$50/month extra for analytics | 14-day free trial
Standout Features:
5 major social networks
Up to 25 social channels
Analytics and strategy recommendations w/ unlimited reporting
drag-and-drop publishing
30+ third party integrations
One of the best in the market, this robust social media management tool includes advanced features and analytics. It can get expensive compared to similar tools, especially as you add users and access more advanced analytics.
Pricing: $99-$249/month | 30-day free trial
Standout Features:
At least 4 major social networks
Up to 10 social profiles
All-in-one social inbox
Basic profile, keyword, and location monitoring
Help desk and social CRM tools
Paid promotion tools and social reporting
Sendible specifically caters to agencies juggling multiple clients. It also has cool integration and engagement features combined with built-in brand monitoring and analytical insight.
Pricing: $29-$199/month | 14-day free trial
Standout Features:
6 major social networks
Up to 49 social profiles
Customizable, brand-centered dashboard
Cool integrations with platforms like Canva and Youtube Search
Solid Automation
Hootsuite is one of the most popular and widely-used brands in the social media management market. It has a comprehensive array of features and analytics and provides monthly plans that cost up to $599—making it one of the most expensive platforms. It also reserves its stronger features for enterprise plans.
Pricing: $49-$599/month | 30-day free trial
Standout Features:
Integration of over 35 social networks
Multiple account management
Bulk scheduling
Custom branded URL
Paid ROI reporting
While Agorapulse is not as affordable as cheaper platforms like Buffer, it offers general all-in-one scheduling, reporting, and posting features. A unique feature of this platform is its reasonably-priced competitor analysis. Overall, Agorapulse is a decent middle ground.
Pricing: $99-$199/month | 30-day free trial
Standout Features:
5 major social networks
40+ social profiles
Social CRM tools
Listening searches
Facebook market analysis and contest apps
ContentStudio is a great management tool and provides a high level of analytic insight and reports on content, social media networks, post performance, etc. It also has automation features that make it a reliable and convenient option.
Pricing: Starting from $49/month | 14-day free trial
Standout Features:
At least 4 major social networks
Content/keyword analytics
Social automation
Feed integration
AI-powered captions
RSS feeds
If affordability is a priority for you and your business, Growbase is an easy-to-use option with plans starting at only $20. This cost-effective platform offers scheduling and reporting functions for 4 major social networks and basic performance analytics. Some advanced features include adding watermarks to images.
Pricing: $20-$60 | 7-day free trial
Standout Features:
4 major social networks
Up to 40 social accounts
Post performance feedback
Easily watermark images
File manager
Group manager
Comparable to Planable's features, this content creation-focused tool is great for small to midsize businesses (SMBs) and has a great user interface to view and adjust posts. With its affordable pricing, it's a reasonable choice overall for your basic posting and scheduling needs. Please note that publishing to the Instagram platform requires Buffer integration or a mobile app.
Pricing: $25-$249/month | 15-day free trial
Standout Features:
5 major social networks
51+ social accounts
Intuitive social media content creation and management
Fine-tune each channel page to view and adjust posts
MavSocial is a reasonably priced tool with a lot of cool features, such as an extensive Media Library and custom URL links for your posts. It also provides performance reports for teams, brands, campaigns, and social media accounts.
Pricing: $19-$199/month | 14-day free trial
Standout Features:
9 social networks
Basic analytics
Stock image library
RSS feeds
Team and brand management
Bit.ly integration
UCG curation
With CoSchedule, you and your team can manage all of your important posts, events, and tasks. Its scheduling/calendar management is one of the best on this list. It also has a 'best time' automation feature called ReQueue that automatically sets optimal posting times.
Pricing: Starting from $29/month | 14-day free trial
Standout Features:
At least 4 major social networks
Social publishing and automation
Custom view calendars
'Best time' automation
Basic analytics
Falcon offers ways to interact with customers, publish and monitor content, and track performance across social networks. A notable feature is the ability to schedule posts on Facebook and Google+ at the same time.
Pricing: Starting from $129/month | 14-day free trial
Standout Features:
5 major social networks
Performance dashboards
Customized onboarding
Team performance analytics
Social advertisement management
Add-on CRM tool
HubSpot offers a wide and extensive variety of services and bundles. This tool integrates the major aspects of marketing, such as social media, SEO, and CRM into a single platform. While it has an impressive amount of analytical features, the pricing is very steep—the most expensive on this list. If this price range isn't within your business's budget, there are cheaper alternatives on this list that are virtually equal in functionality and quality.
Pricing: $50-$3200/month | no free trial
Standout Features:
At least 4 major social networks
Ability to measure social ROI across multiple marketing channels
Email and Salesforce integration
Marketing automation
SEO recommendations and optimization
Campaign, content, contact, and reporting
Planable is a content-creation platform with an awesome user interface that allows for efficient workplace collaboration. Overall, it is a decent and affordable platform that performs basic planning and scheduling functions. You are also given a 2-month free trial period to test out their services, which is longer than the other platforms.
Pricing: $0-$99/month | 2-month free trial
Standout Features:
At least 4 major social networks
Manages multiple brands
Adaptable workplace-based dashboard
Great user interface
Ideal for streamlining team management
Media Library
If your business's main marketing platform is Instagram, Sked Social is a great option. While you can schedule and post content on other major networks, this platform focuses on optimizing Instagram accounts. Cool features include a drag-and-drop calendar overview and Canva integration.
Pricing: $25-$135 | 7-day free trial
Standout Features:
4 major social networks
Content collaboration
Zapier and Canva integration
Library Chrome extension
Instagram and Facebook analytics
Oktopost is a platform designed for B2B marketers who want to streamline their marketing campaigns. It has a great user interface for publishing posts across multiple social media accounts. However, this platform may not be as suitable for larger-scale companies.
Pricing: $49-$476 | free trial available (unknown period of time)
Standout Features:
Editorial calendar
Social media analytics
Automation and performance tracking
Simple interface
If you're surprised to see Canva is on this list, that makes both of us. While most of us are familiar with its popular templates and content creation features, it also has the potential to be leveraged as a social media management tool. Through their content calendar feature, you can design and schedule posts on various platforms. Canva is at the bottom of this list since it has no analytical function, but this looks like a developing platform that we should be paying attention to in 2021.
Pricing: $0-$12.99/month | 30-day free trial
Standout Features:
At least 4 major social networks
Royalty free images, logos, and designs
Robust design center
Simple interface
Wide range of templates for all major social networks
Real-life team collaboration