55 percent of internet traffic is coming from mobile devices. And no—that number doesn't even include tablets.
Without a content strategy for mobile, you're pretty much telling more than half of your audience to stay clear from your site.
That has to stop.
In this post, we'll help you develop a solid mobile content marketing strategy to grow your digital footprint this 2022.
But before we get to the juicy stuff, a little introduction.
What is mobile content marketing?
TL;DR—it's content marketing that targets smartphone and tablet users.
Just like regular content marketing, mobile content marketing is also broken down into a handful of areas. This includes mobile video marketing, SEO, landing page optimization, and so on.
Now that we're all on the same page, it's time to get to work.
Mobile content marketing strategies for 2022
Here are the top proven mobile content marketing strategies your brand should use this 2022:
1. Build a keyword strategy around voice search
How do you search the web with your phone?
If you're like 71 percent of all users, chances are you'd fire up your virtual assistant and use voice search.
That's why mobile content marketing requires a shift in your keyword strategy.
Instead of usual keywords like "roof repair CA" or "best email marketing tools," target keyphrases that sound more natural. Think "roof repair services near me" or "what's the best email marketing tool for professionals."
Tools like SEMrush's Keyword Magic Tool can help you with this by compiling a list of question-based keywords.
Just run your search as usual and click 'Questions' once the results are loaded in.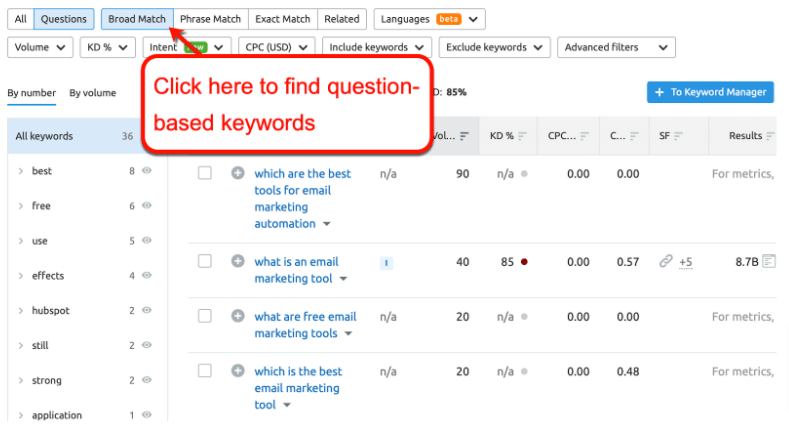 A free alternative to SEMrush would be AnswerThePublic.
It can provide you with a list of question-based keyword suggestions based on your target search terms.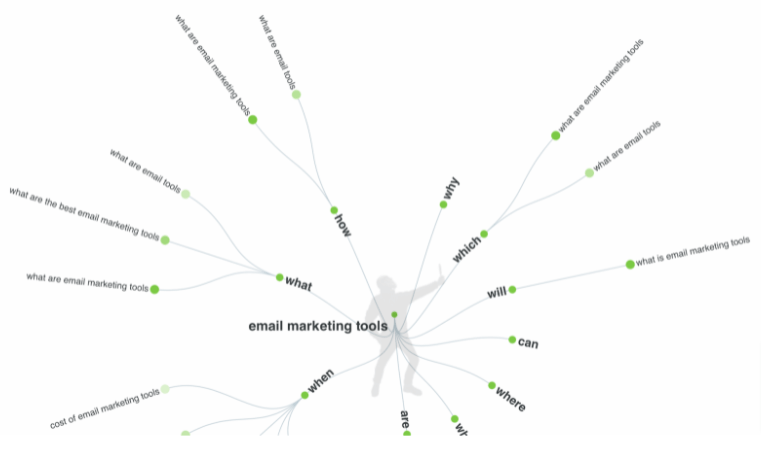 Here are some tips when optimizing for voice search keywords:
Don't forget about "near me" keywords
Create FAQ (Frequently Asked Questions) sections
Optimize for rich snippets
Write concise and to-the-point answers to questions
2. Establish a solid social media presence
Most people do most of their social media activities on a smartphone.
If you want to do mobile content marketing right, you need to up your social media marketing game.
This is where mobile video marketing comes into play.
According to statistics, video content consumption on mobile devices increases by 100% each year. Furthermore, 92% of all mobile users share videos with their peers.
The good news is, you don't need an in-house production team to create shareworthy videos on social media.
Tools like INITIATE.AI, Promo, and InShot make it easy to whip up eye-catching video content for social media.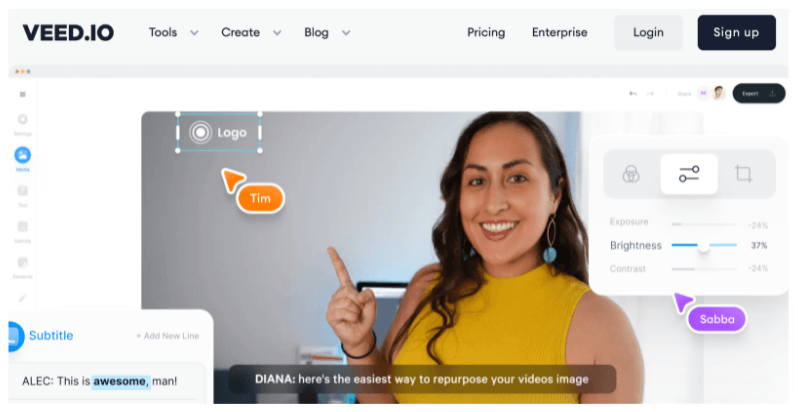 Some other mobile marketing tips for social media are:
Engage users: Build a trustworthy brand by engaging social media users through likes, comments, and shares.
Use live videos: Humanize your brand and provide "in the moment" experiences using features like Instagram Stories and Facebook Live.
Join groups: Discuss relevant topics and find qualified leads by joining social media groups.
3. Transform your website into an app
It's not rocket science: mobile apps are more accessible and fun to use.
Unlike regular websites, apps can be launched straight from the home screen. This eliminates the need for users to rely on a clunky mobile browser to check out your content.
Don't have the budget to create an official app for your brand?
You can use tools like Convertify to instantly turn any existing website into a full-fledged mobile app.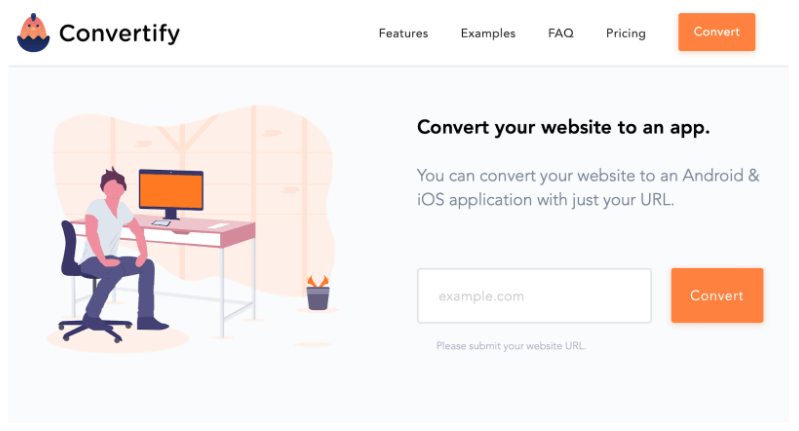 Convertify also comes with a number of extra features, like:
Push notifications
Media playback
Downloads
Social media sharing
Custom app loading screen
4. Optimize website content for mobile browsers
One of the key principles of mobile content marketing is improving the experience of phone and tablet users.
This should start with your website.
Applying a mobile responsive theme is a step in the right direction. This allows page elements like headers, text, and widgets to automatically adjust and reposition to accommodate smaller displays.
Without mobile responsiveness, your website could look like this: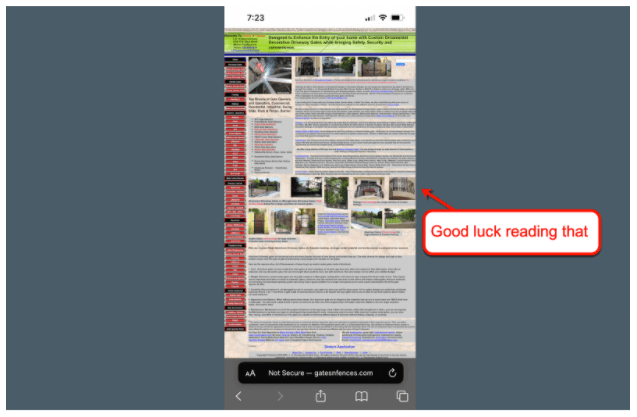 Looks nasty, right?
Of course, mobile content optimization takes more than just mobile responsiveness.
Below are a few other things you should take care of to improve the mobile content experience on your website:
Readability: Be sure to use large fonts with sufficient line spacing to make text more readable. Also use formatting techniques, like subheadings and bullet points, to improve your content's scannability.
Space out clickable (or tappable) elements: On smaller screens, it's easy for users to tap the wrong button or link by mistake. You can help them avoid this using proper padding and spacing between interactive elements.
Build Accelerated Mobile Pages: Accelerated Mobile Pages or AMP is an open-source framework initially launched by Google to improve page loading speeds on mobile. It features a library of resources that will help you adopt the best practices in creating mobile-friendly pages.
5. Create mobile-friendly emails
Every serious marketer knows that emails are powerful tools for generating traffic and conversions.
Tying emails in your mobile content marketing strategy is rather straightforward.
All you have to do is make sure that your emails are crafted to be as mobile-friendly as possible.
Similar to your website content, emails should have spaced-out, readable fonts and clear interactive elements that are easy to tap. You should also avoid lengthy paragraphs and use subheadings, CTAs, and images that pop.
This email from Zoom checks all the boxes on what mobile emails should be.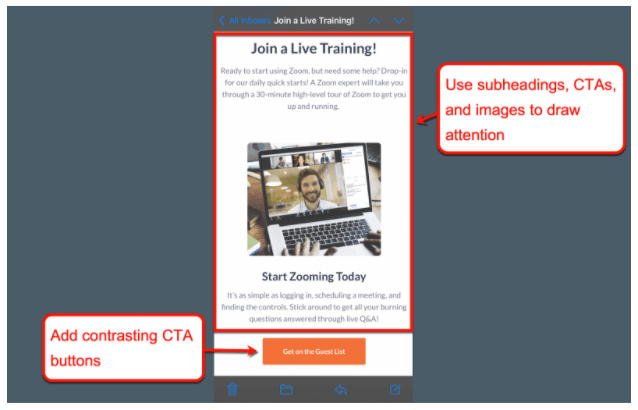 Mobile conversion optimization best practices
Want more conversions from your mobile content marketing campaign?
Optimizing content and emails for mobile devices will help your increase conversions. But there's more to mobile conversion optimization than that.
Use A/B testing to speed up your mobile landing page optimization.
Fine-tune your pop-ups and opt-in forms for smaller display sizes.
Design landing pages with touch controls, particularly swiping, in mind.
Use social media features like shoppable stickers and Facebook buy buttons.
Simplify your navigation elements so they don't disrupt the user experience.
Mobile marketing trends for 2022
To create a winning strategy, you need to be aware of the top mobile marketing trends that brands use.
Streaming to connect with millennials: When watching live videos, 56 percent of millennials choose to do it on a mobile device.
Selling on shopping apps: With more users shopping online, brands should consider creating merchant accounts on apps like Wish and Amazon.
Influencer marketing is more important than ever: Partnering with influencers on Facebook, TikTok, and Instagram is still a great way to promote a brand.
Mobile-first approach is here to stay: The dominance of mobile devices over desktops means marketers should stick with a mobile-first approach in terms of SEO.
Fire up up winning mobile marketing campaigns now
Running high-performing mobile marketing campaigns is one of our specialties over at Brentonway.com.
If you're looking to explore your lead generation and sales initiatives through mobile content marketing, then request a free consultation by clicking here.