You need a winning blockchain marketing strategy if you want to grow your business—competition is fierce, after all.
In fact, despite the bombardment of negative press the blockchain and crypto space receives, both industries continue to be unstoppable.
For instance, the global spend on blockchain-powered solutions is projected to reach $11.7 billion this 2022. Similarly, the crypto industry is estimated to reach $4.94 billion by 2023 from just $1.49 billion in 2020.
As both spaces continue to grow, new blockchain and cryptocurrency projects need more than ads to reach potential customers.
They need a holistic blockchain and crypto marketing strategy that extends across various digital channels.
What is a blockchain marketing strategy?
A blockchain marketing strategy isn't fundamentally different from traditional digital marketing. It also covers various marketing verticals, like content marketing, social media, and email marketing.
The main difference is you're marketing blockchain projects and crypto businesses.
That means you're targeting savvy consumers who depend on data-driven information.
It doesn't matter if you're creating a new cryptocurrency or offering blockchain-as-a-service solutions to B2B clients. Potential investors, buyers, and traders will rely on extensive research to make purchase decisions.
Why is having a blockchain marketing strategy important?
To effectively promote blockchain projects, a blockchain marketing strategy requires a deep understanding of your target audience's buying process.
You need to provide in-depth, valuable content about your blockchain or crypto project that aligns with their journey.
Since the majority of your target market are experts in the blockchain space, generic marketing strategies are no good. Rather, you need to elevate your marketing efforts and create content experiences that provide the right information at the right time.
More importantly, you need to leverage platforms that potential clients and investors use for research.
Blockchain marketing strategy: 7 proven tips
Without further ado, here are seven proven blockchain and crypto marketing strategies to get people interested in your blockchain project:
1. Use communities to your advantage
Cryptocurrency and blockchain enthusiasts are often active in online communities, particularly Reddit.
They log in to discuss potential Bitcoin alternatives or "Altcoins," share trading strategies and theorize about the future of crypto.
To reach these users, your content marketing should prioritize your brand's consistent presence in the right subreddit. Just be sure to participate by providing value to users, be it through sharing guides and answering questions.
Here are some of the best crypto subreddits you can join:
r/Altcoin
r/CryptoCurrencies
r/blockchain
r/Crypto_General
r/CryptoMarkets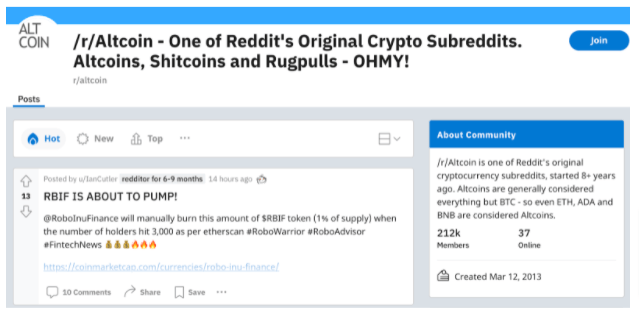 2. Guest post on trusted sites
B2B buyers of blockchain startups don't just hang around social media to look for potential partners.
During their discovery and research phases, they're reading articles on INC, Forbes, and similar popular sites.
As far as content marketing goes, make guest posting to those publications your top priority. In addition to helping you build awareness, guest posting is also beneficial to search engine optimization.
3. Negative press is still press
Negative information about your brand can easily overturn a prospect's decision to buy from you.
You can incorporate social media listening to address any negative feedback about your brand on social media platforms. Reputation management tools and services, on the other hand, can help preserve your brand's integrity on review websites.
Statistics show that 90 percent of consumers are willing to overlook negative reviews if they're addressed professionally.
As long as you can find and address bad reviews, you can turn the negative press into positive.
4. Focus on reputation management
Your reputation is critical to the success of your crypto marketing strategy.
If you want people to invest their hard-earned money, they need to know that it's going in good hands.
That said, be sure your presence on social media platforms and your own website shines with authority. Provide sufficient information about your team, credentials, and previous accomplishments.
The same rings true if you're trying to promote your blockchain-based project.
A good strategy is to aggregate reviews and testimonials, if any, from social media sites. Make them easy to find and utilize them as the centerpiece of your brand's messaging.
You can do the same thing with news and press release articles published on other websites.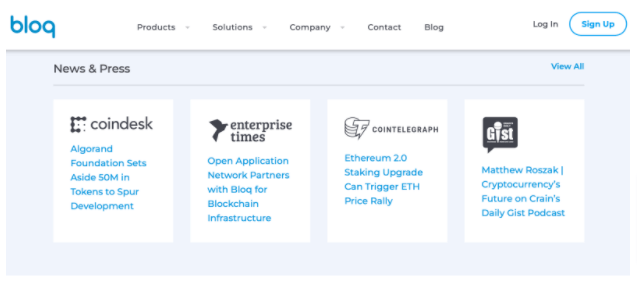 5. Get your project listed
Websites like Product Hunt are teeming with startups hoping to spur conversations about their brand.
You should be able to find other blockchain-based startups listed on the platform—getting the community's attention.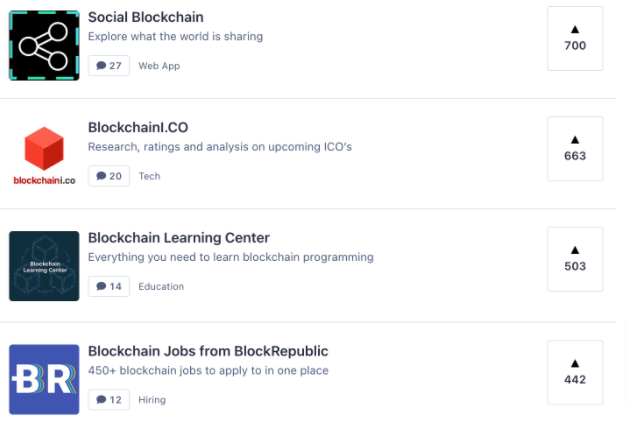 Product listings on the site can get featured on the first page through upvotes. That said, make sure your listing is backed with active promotion efforts on your end.
A must-have strategy is to join and become an active member of the Product Hunt community. You can start discussions or join existing conversations around topics like:
Marketing and SEO
Side projects
Launch tips
Time management
Growth
Resources for developers
6. Level up your content marketing
Blockchain startups need more than just blog posts and social media promotions to gain traction.
Instead, they should reconfigure their content creation strategy and include high-level, informative pieces. Some examples are case studies, white papers, and visual pitch decks.
It's also vital to plan how these pieces of content will reach your audience.
A time-tested method is to tie them into your email marketing strategy. For example, rather than publishing industry reports to your website, use them as lead magnets to lure prospective leads.
7. Dial down technical jargon
Jumping into the technical side of your blockchain project is essential if you want to lure in potential customers. However, you shouldn't completely alienate newcomers by loading up your content marketing with jargon.
Keep in mind that potential investors need total reassurance before they buy into new projects, especially if it involves blockchain or crypto.
There's also a good chance that your content is being accessed by someone who wants to invest in cryptocurrencies. And, if they have never owned cryptocurrencies before, bombarding them with technical jargon won't change their minds.
As such, make your educational content beginner-friendly using simple language and ample explanations for important terms.
Hire a blockchain marketing agency
Need an effective cryptocurrency marketing strategy? Want more traffic to your blockchain startup's homepage?
A reputable, omnichannel marketing agency can help you create an actionable game plan.
With Brenton Way, you can transcend traditional marketing strategies with new, forward-thinking initiatives.
We can help you with NFT advertising, influencer marketing, referral programs, press releases, and more.
Request a free consultation today and let's discuss how you'll disrupt the world of blockchain tech.