It can be overwhelming to do the marketing alone. That's where marketing agencies come in, providing a plethora of services to help you establish your store. With such a vast variety of agencies to choose from, it is important to be selective to find one that is right for your business needs. To narrow your options, here is a list of the top 10 best Shopify marketing agencies.
Here are the top 30 Shopify marketing agencies in 2022: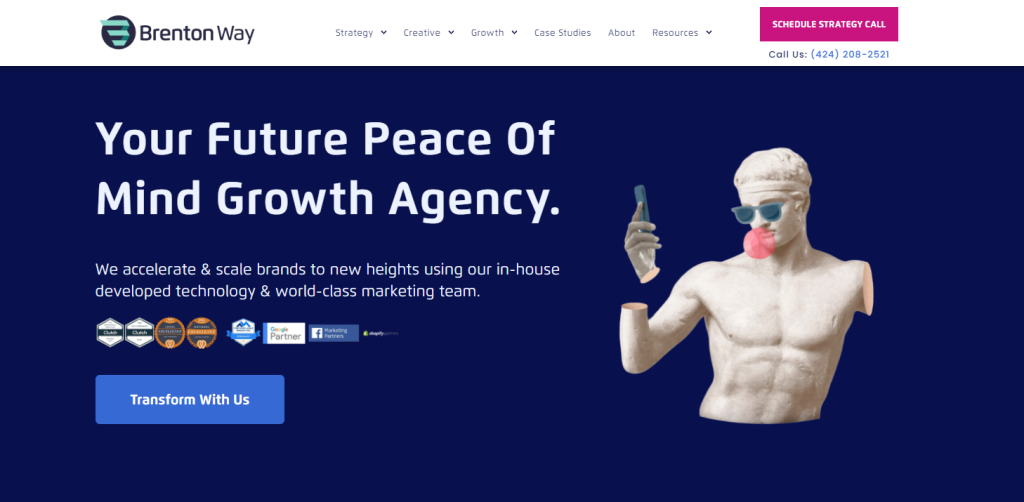 Brenton Way is a full-service digital marketing agency in Los Angeles that helps startups & midsize companies scale their growth. We plan & execute unique marketing strategies for short-term and long-term success. Our in-house team brings full impact across all of your marketing channels, empowering you to focus on what matters most.
Services
Absolute Web is recognized as a Shopify Plus Agency based in Los Angeles and Miami. This award-winning agency is able to deliver the results you need within strict deadlines. Their Shopify specialists use innovative marketing strategies to create fitting designs that will take your brand to the next level.
Services
Shopify Audits
Replatforming and Data Migration
User Experience Design
Performance Optimization
API & 3rd Party Integration
PWA Implementation
This award-winning service specializes in search engine optimization (SEO) and offers a large variety of marketing services and data-driven strategies to boost your website visibility, drive more traffic, and grow leads or sales.
Services
PPC / Paid Search
Adwords
Social Media Marketing
Email Marketing
PR and Influencer Marketing
Video Production
Copywriting
OnlyGrowth has helped Shopify members sell over 500,000 products. They have a track record of increasing reviews and ROI. OnlyGrowth is a great choice to explore if you're looking for a smaller Shopify marketing company.
Services
Site audits
Conversion rate optimization
Email marketing
Shopify Plus development
A/B testing
Growth hacking
Ecommerce consulting

Propeller is a professional, full-service agency based in London, Birmingham, and New York. They have a skilled team of specialists available to provide strategic support and direction when you need it the most.
Services
UX and product planning
Theme customization
Shopify Activation
Content Service
Product planning
Cake Commerce is a marketing firm located in Connecticut. They specialize in eCommerce consulting, eCommerce strategy planning, eCommerce design, and eCommerce development. A great advantage is that Cake Commerce offers Shopify-specific marketing solutions.
Services
Shopify Consulting
Shopify Email Marketing
Shopify PPC and Paid Social Media
Shopify SEO
Shopify Web Design
This is a full-service online marketing consultancy with proven expertise in SEO, PPC, Social Media Marketing & Management, Email Marketing Service, and Reputation Management.
Services
PPC management
Social media marketing and management
Reputation management
Local SEO service
Email marketing
National SEO service
A digital marketing agency in Los Angeles, CA that can help your small business reach its full potential. They help all small to midsize businesses enhance visitor sales and brand awareness through website designing and SEO solutions.
Services
ECommerce web development
Search engine optimization
Social media optimization
Web content generation
Award-winning SEO firm for businesses of all sizes. SEO, social media, web design, and influencer development are part of their digital marketing services. All of their work is completed in-house and is never outsourced.
Services
Search Engine Optimization
Social Media Development
Website Design & Development
Conversion Optimization
Reputation Management
Video Design & Marketing
RevLocal uses a targeted approach to digital marketing to help businesses optimize their digital presence. They provide digital marketing services for local businesses and multi-location brands, including local search marketing, paid advertising, review marketing & reputation management and social media.
Services
Local Search
Paid Advertising
Review Marketing
Social Media
This is a 5-star SEO firm with over 11 years of experience. They are experts in using SEO, PPC, Review Management, and Web Design to meet your company's digital marketing objectives. They provide entirely customizable packages that are tailored to fit your budget.
Services
SEO
Local SEO
PPC
Conversion Rate Optimization
Email Marketing
Starke Marketing develops and implements strategic campaigns to help businesses of all sizes and industries establish, scale, and accelerate their growth. Think of them as a full-service marketing team.
Services
SeedX specializes in integrated digital and traditional marketing, technology development, and growth strategies for long-term success and sustainable growth. They pride themselves on helping their clients understand the digital tools available to them to grow their brands
Services
Logo design
Web design
Brand strategy
E-commerce development
Digital marketing
Websites Depot, based in Silver Lake, California, is an award-winning, Google Premier Partner digital marketing agency. They offer high-end web development services, as well as all of the Digital Marketing services that help businesses succeed, such as SEO, Social Media Marketing, Branding, and Reputation Management.
Services
Digital Marketing
SEO
Social Media Marketing
Branding & Reputation Management
With Incrementum, you can take your current business model to the next level by turning it into a value and data-driven brand. With its machine learning technology, Incrementum adopts digital psychology, allowing brands to perceive and empathize with their customers honestly.
Services
SEO service
Google Adwords / PPC
Social Media Marketing
Website Design
Data Analysis
Zbra Studios is a multi-award-winning web design firm with over thirteen years of industry experience and an emphasis on assisting businesses all over the world in achieving measurable outcomes for their clients.
Services
Web design
Website programming
Conversion optimization
Digital marketing
Branding
Ignite Visibility is one of Clutch.co's top rated agencies, as well as one of the industry's leading digital marketing firms. Ignite Visibility develops personalized solutions suited to each client's unique business objectives by building mutually beneficial, long-term relationships.
Services
SEO
Website and design development
Full website redesigns
Landing page design
Logo design
Sunrise Integration creates high-quality unique software applications and workflow solutions so that your company can concentrate on its core capabilities. They specialize in assisting startups as well as Fortune 500 companies with their web development projects.
Services
Feature strategy and UI/UX Design
Shopify app programming
Shopify hosting support & infrastructure
Theme development
The Dotlogics team provides outstanding customer service, timely communication, and high-quality design. They have a team of veteran developers, technical experts, and strategists who know how to ask the right questions to get you on the right route with the appropriate features, the right platform, and the ability to expand your business.
Services
Theme customization
Funnel design
Content management
Sales and marketing tools
Mobikiasa guides and assists their clients in launching the most scalable websites and apps, from full-service development to a la carte services. They provide web apps, mobile, and tablet solutions with the goal of increasing traffic and profits.
Services
End to end setup
SEO/SEM
​​07/Server Management
Content Management
This agency specializes in working with premium, high-touch e-commerce brands at the essential stages of growth and reinvention to recognise blind spots and opportunities, develop digital implementations, and accelerate progress and tremendous results.
Services
Website Design
Website Development
UX / UI Design
E-commerce Design and Development
Conversion Optimization
Brand Identity
SputIT pushes Shopify to its limits, and their extensive technical knowledge of the platform enables them to solve business challenges of any scale. They specialize in advanced technical solutions and complex Shopify Plus stores.
Services
Migration to Shopify
Design
Theme development
UX / UI Design
​​Launch and support
Bonsai Media Group is a dedicated partner who works hard to ensure that the client sees a return on their investment. They are mindful of the client's budget and open about how certain strategies may benefit them.They demonstrate thorough and attentive project management, resulting in a successful engagement and long-term partnerships.
Services
Web design
AR/VR Development
Digital Strategy
SEO
Online Advertising
SuperCo are Shopify Plus specialists who assist shopkeepers of all sizes in starting, scaling, and managing their online businesses. They serve over 50 clients, providing everything from minor site changes and design and build projects to complex custom app and API work.
Services
UX Design
Custom & Private apps to solve unique business problems
Conversion Rate Optimisation
Subscription & Retention Management
Blank & Co is a product design and e-commerce firm. Their work is influenced by market research and is based on outstanding customer experience and technology.
Services
UX/UI design
Digital strategy
E-Commerce development
Service design
P2H is a market leader in web development and design services. They have unmatched expertise in creating banner ads and email templates, mobile apps, UI/UX design, just to name a few.
Services
Front-end development
Cross-platform mobile development
Back-end development
UI/UX design
Website performance and security optimization
Adchitects is a leading European web design and development firm. They create modern websites, web and mobile applications, and e-commerce strategies by planning, building, and expanding your ideas. Transparency, trust, communication, expert project management, and attention to detail are the foundations of thier collaborations with clients.
Services
Brand identity
Responsive website
Custom E-commerce
Web/mobile app
DigitalSuits is a software design agency with a history in startup development. This expertise allows users to develop viable methods for the expansion of your digital business.
Services
Headless Shopify development
Website development
Mobile-first design implementation
Multi-language & currency store development
Replatforming and data migration
PIVOFY is a premium agency based in Chicago that specializes in the implementation of end-to-end eCommerce solutions. They implement comprehensive innovative technologies while executing holistic, brand-driven, and user-centric strategies to create exceptional e-commerce user experiences.
Services
Replatforming
B2C/B2B Ecommerce
Subscriptions
Automations
VT Labs has over 6 years of experience in full-cycle custom software development. Ruby on Rails, Headless, and E-commerce web development are their strongest suits. They prioritize scalability by utilizing a headless architecture with Shopify Plus.
Services
Dynamic Dreamz provides highly professional Shopify edits and customizations, as well as an exclusive customized Shopify theme, to provide your business with the professional appearance it requires. They have worked on over 3300 projects and have over 16 years of experience.
Services
Shopify Plus Store development
Shopify Theme customization
PSD to Shopify Conversion
CustomTheme development
Shopify App Integration