People rely on search engines to find local shops and services.
About 46% of Google searches are conducted with local intent, and around 88% of people either call or visit a business after conducting a local search.
Hence, it becomes crucial for businesses to optimize their website content and win over local search results to attract more customers.
You miss many valuable opportunities if you do not include local SEO in your marketing mix.
When serving in a particular geographical location, you must create a winning local search engine optimization strategy to target local prospects and get more in-store traffic.
In this article, I have listed winning local SEO tips that will take your local search engine optimization strategy to the next level.
Let's begin!
What is Local SEO?
Local SEO is the practice of helping your business rank higher on local search results.
With the implementation of local SEO, business firms can create an impactful impression and position their product and services to potential customers and prospects looking for them locally.
Physical businesses like restaurants, plumbers, hair salons, coffee shops, local consultants, and photographers should include local SEO in their marketing mix to reach out to people in their service area.
For example, suppose you own a coffee shop in NYC. In that case, you should ensure your local business listing is ranked at the top of the Google local search results for the keyword 'coffee shops in NYC', similar to Abraco, Cafe Integral, and Intelligentsia.
A higher Google places listing ensures many prospects see your business. With improved business reach, you acquire more customers and increase your profits.
Steps to Improve Your Local SEO
Here are the top ways to create a thriving local search engine optimization strategy:
1- Create Your Google My Business Profile
Google My Business, also known as GMB, is a tool designed for businesses to manage their online presence in Google local searches.
Optimizing your GMB profile can help you stand out against your competitors in your local area. The more optimized your Google business profile is, the more opportunities you get for your business growth.
Here are the steps to create your GMB profile:
Step 1: Go to create a profile and enter the name of your business. If you can't find your business registered, click on 'add your business to Google.
Step 2: Select your business category
Next, enter your business name and choose your business category.
Step 3: Enter your business address
If your business is in a physical location that customers can visit, you need to mark the prompted message as 'Yes' and add your business location.
You also have the option to position your business location on the map. If your business firm does not have a physical operating place and you do not provide in-person delivery or services, you can list and mention your service areas and then click 'Next.'
If you do not provide your exact address, Google asks you to choose the region where your business is based. Choose the location from the drop-down menu and click 'Next.'
Step 4: Fill in your contact details
Enter basic business details so that customers can reach out to you quickly. You can provide contact details such as phone number, website, and email id.
When you have entered all the essential details, click Next.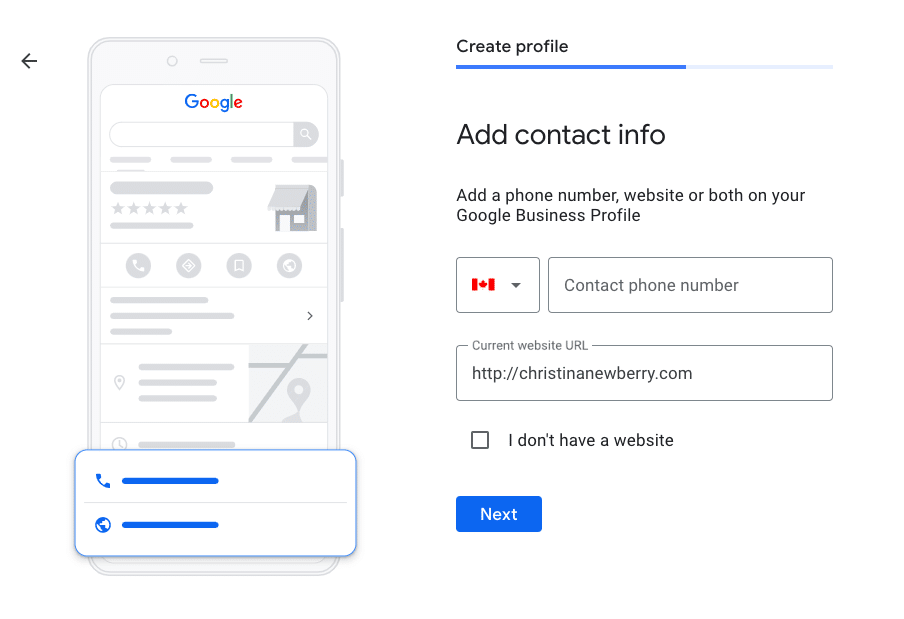 Step 5: Verify your business
You need to enter your physical address when you are asked to verify your business. Your address is just for verification and is not displayed on the Google listing.
Once you enter your physical address to get your business account verified, you will receive five digital OTP that you need to enter on the next screen.
You will receive a confirmation message once your business is verified.
Step 6: Add more business details
After successfully verifying your account, you should add more business details to gain customer trust.
Add business hours, contact preference, business description, and photos.
Once you fill out these details, click 'Continue.' You will be given a Business Profile Manager dashboard.
Customers who find complete details about a business on Google Maps and Business Profile are more likely to consider it reliable and reputed.
Providing complete information on your Business Profile improves your score for relevance. You must include information that tells the Google visitors "what you do, where you are, and when they can visit your store."
Step 7: Add optimized images
Your Google Business Profile must include recent and optimized images. Your profile must include a logo and cover photo for people to recognize your brand easily.
You should also include images of your office, work team, or service area to increase customer reliability.
If you are running a business that deals with tangible products, you should add photos of your products. You can add professional images of your best-selling dishes for businesses like restaurants and bars.
According to Google, businesses with accurate and optimized photos get more requests and clicks to their website.
Step 8: Add Keywords
Add relevant keywords to your Google My Business profile to increase the SEO relevance score of your profile when people search with those keywords online.
You can take the help of local SEO keyword research tools like Google Trends or SEMrush to discover traffic-driving keywords in your niche. Once you get relevant keywords that have the potential to drive sales for your business, you need to incorporate them in your business description naturally.
Step 9: Ask for reviews
Building a healthy review system for your brand increases your credibility. Reviews also help to improve your search engine rankings.
Encourage your customers to drop honest reviews for the product bought or the service availed. Make sure you respond promptly to all negative or positive reviews.
Step 10: Update your information from time to time
Make sure to edit and update your profile information from time to time. For instance, if your working hours or the contact information is changed, you must update it immediately.
Customers get annoyed when they find incorrect contact information on your profile.
Step 11: Include special features and attributes
You can also add unique features and attributes available on Google My Business for different businesses.
Here is a list of additional features:
Step 12: Add your saleable products
If you are a tangible business product owner, remember to add your up-to-date product list so that prospective customers can easily view your offer.
Besides this, your products will also appear on Google Shopping when users search for your targeted keywords.
For instance, if you are an Italian food truck owner. You are likely to put your services under the keywords like ' Italian Food Joint,' 'Italian Food,' 'Pizza Place,' and more like this.
In the above example, you are targeting the keywords with your services and what a customer will search for when searching for food joints like you.
2- Conduct Local Keyword Research
To compete with your competitors, you need to conduct an in-depth competitor analysis to know what keywords they use in their local SEO strategy.
You can use local SEO keyword research tools like SEMrush to find the keywords your competitors are targeting quickly.
Enter your competitor's domain, and the tool will display all the keywords on which the domain ranks locally.
In our case, one of the competitors of our 'coffee shops in NYC keyword' is abraconyc.com so that we can enter this domain in SEMrush, and the tool displays a list of keywords that are bringing them traffic.
We can filter and target the ones relevant to our business.
SEMrush will show you the keyword, the search volume, the current position, the keyword difficulty score, and the landing page URL.
With such data-driven insights, you can add keywords to your strategy to bring you conversions.
Not just your competitors, you can also put your domain in the tool to find a list of keywords your domain is ranking for. You can pick the low-hanging keywords and optimize them further to bring in quick results.
You can repeat this process for your top three competitors and look at the broad match, phrase match, questions, and related keywords sections to find a list of the closest matching keywords.
3- Increase The Number of Local Citations
Other than Google My Business, there are many online directories like Yelp, Yellow Pages, Bing Places, and more where you can list your business information to increase your online visibility.
You should focus on listing your business on highly authoritative websites to drive organic traffic, earn quality links and improve your local search engine optimization.
Ensure that your NAP (Name, Address, and Phone Number) is consistent and identical across all directories.
Any discrepancy in the report provided, such as a wrong number, outdated email address, and misspellings, might confuse the search engines, and your local rankings might decline.
Here are the top places to get citations from:
Yelp
Yellow Pages
White Pages
Local.com
Super Pages
Manta
Yahoo Local
Bing Places
BBB
Angie's List
City Search
Patch
EZLocal
4- Enhance Your Internal Linking Structure
Internal linking improves website navigation, assists with information architecture, and distributes page authority and ranking power among pages.
Here are the ways that you can adopt to enhance your internal linking structure:
Create plenty of content: Quality content opens doors to ample linking opportunities.
Use anchor text that you want to rank for: Ideally, internal linking is best if done using anchor texts instead of images. To link anchor text successfully, use natural and unoptimized sentence fragments, so your content doesn't look spammy.
Make sure your links are contextual: Google chooses websites that provide a smooth user experience, and the primary purpose of its internal linking strategy is to offer a better customer experience. Hence, when you add an internal link to your content, make sure the linked page matches the context of the content. This will increase your traffic and offer users informative content.
5- Implement On-Page SEO
On-page SEO is optimizing various components of your website to rank it higher on search engines like Google.
Here are the top on-page SEO practices:
Meta Tag Optimization: Make sure to add unique page titles and meta descriptions having your target keywords. For example, if I am creating a page for hot chocolate in NYC, I will use the keywords 'hot chocolate in NYC' and 'best hot chocolate spots in NYC' in the title and description tags to make it more relevant.
Content Creation: Focus on writing relevant, keyword-optimized content that clearly explains your product and services. Keep your target audience in mind while writing content and focus on their pain points.
Image Optimization: Adding plain text is not enough. Add attention-catching images with optimized alt text to your content. Reduce the size of the pictures to minimize website load time and improve page conversions.
URL Structure: Create comprehensive yet brief URLs for all your pages and posts. For example, if you have a page about black coffee in NYC, you should keep the URL as best-black-coffee-NYC.
6- Create Localized Landing Pages
Localized landing pages are web pages created to attract leads and customers in the local market. These landing pages are geographic location specific.
Localized landing pages must include geo-specific keywords and optimized H1, H2, and H3 headings. Include natural internal links and optimized images for better engagement and reach.
While doing keyword research, you should have a list of keywords related to your service locations. After that, you should create a separate landing page for your target locations or services.
For example, I will create three landing pages for each product if I am selling coffee, cupcakes, and chocolate shake. My target URLs would be:
Coffee-in-nyc
Cupcakes-in-nyc
Chocolate-shakes-in-nyc
Now, I also serve in Jersey City, Hoboken. Fort Lee, and Elizabeth.
I will create 12 more landing pages for each of the target locations, like:
Coffee-in-jersey-city
Coffee-in-hoboken
Coffee-in-fort-lee
Coffee-in-elizabeth
Cupcakes-in-jersey-city
Cupcakes-in-hoboken
Cupcakes-in-fort-lee
Cupcakes-in-elizabeth
Chocolate-shakes-in-jersey-city
Chocolate-shakes-in-hoboken
Chocolate-shakes-in-fort-lee
Chocolate-shakes-in-elizabeth
This is a small example of how you should create your local landing pages for better SEO. You can create as many pages as required to boost your local SEO campaign.
7- Create a Mobile-Friendly Website
About 61 percent of Google searches are conducted using mobile. Common ways people look up your website on mobile are to check reviews and find directions or other contact information.
Before optimizing your website for mobile, you should check how your website performs on mobile devices. This will give you an idea of the areas you need to work on.
You can open your website on multiple devices like mobiles and tablets and check the page load time, how your design works on smaller devices, whether the content and images are readable and how smooth the website navigation is.
For a deeper understanding of your website's mobile performance, you can use Google's free Mobile-Friendly Test tool to identify your site issues and suggest measures to improve your website for mobiles.
Apart from this, here are some tested ways to have a mobile-friendly website:
Test your website's Core Web Vitals to get a comprehensive insight into the user experience you are offering.
Improve the site's loading time by caching, using a content delivery network, compressing images, and keeping all the site elements updated.
Redesign pop-ups for mobile to catch users' attention while simultaneously delivering critical information to users. While designing, remember that your pop-ups must be non-obstructive and easy to close.
Build a mobile content marketing strategy around voice search.
8- Acquire Local Links
One of the most important steps to improve your local SEO results is to acquire the best local backlinks.
A backlink is a vote to your website from another website relevant to your niche. When any website adds a hyperlink to any page on your site, it is counted as a backlink.
Search engines will consider your business popular in that area if you have lots of local backlinks. With increased trust and popularity, your GMB rankings will improve.
If you have lots of local backlinks, search engines will consider your business popular in that area. With increased trust and popularity, your GMB rankings will improve.
Here are some of the top ways to acquire local links to your site:
Create your business profiles on leading social media platforms like Facebook, Twitter, Instagram, Pinterest, and others, and get a backlink from the profile section.
Partner with other businesses in your area and cross-promote their content on your blog, and publish your content on their blog. This way, you can exchange some backlinks within the published content.
Collaborate with influencers in your service areas to leave a positive review about your businesses. Local social media influencers have a loyal following, and people trust their advice. You can reach a vast community of local people by collaborating with influencers. To make this process more engaging, you can start a contest and ask people to promote it on their blogs. In this process, you will earn some great backlinks. You can also take the help of an influencer marketing agency.
Research local directories and the Chamber of Commerce in your area and try to get backlinks from them.
Prepare a list of industry-specific directories and submit your business for approval. Gradually you will start acquiring relevant links related to your industry.
Create and share press releases and columns in local newspapers, forums, blogs, and communities. This link-building tactic works exceptionally well to gain links from trusted sources.
Become a sponsor of local sports clubs or run a charity campaign. Often sponsors are listed on local universities and other educational websites, some of the top places to get links from.
Publish unique, relevant, and engaging content regularly. When you publish comprehensive and share-worthy content, your content will start to rank on Google, bringing in more visitors to your site. People often link back to well-researched content, so you can acquire natural backlinks to your site that Google and other search engines love the most.
9- Optimize For Voice Search
Voice searches are three times more likely to have a local search intent. Hence, it is crucial to optimize your site for voice search.
Here are some of the best ways to optimize for voice search queries to boost your local SEO:
Publish content focussed on long-tail keyword searches. Long-tail keywords have high purchase intent, and people are looking for direct answers for such searches. For example, someone might ask Google, 'which is the best coffee shop in NYC?' and Google returns a direct answer, 'the best coffee shop in NYC is…'. To get your shop's name in that answer, you need to publish lots of content on several popular sites around the web that says, 'your shop name is the best coffee shop in NYC.' Besides, you should also implement all the GMB optimization best practices to get your business ranked at the top of the local search results.
Add an FAQ section on your website that answers your target audiences' commonly asked questions. Such FAQ questions are more likely to be picked up by Google when someone asks a similar question.
Use schema markup because it helps the search engines better understand your page's contents. Here is an excellent guide to Schema markup optimization you can use to optimize your website.
Improve the site speed because faster-loading sites are more likely to be returned as an answer for voice-based searches.
Conclusion
Local search engine optimization is a must for improving the visibility of your business in your service areas.
Google My Business optimization and link building are a must to boost the success of your local SEO campaign. You can leverage the best digital marketing tools to make this process easier.
Use the local SEO checklist discussed in this article to acquire more customers and increase your conversions.
If you need help with local SEO, schedule a strategy call with Brenton Way's leading local SEO experts. We will help you scale your brand to new heights with our data-driven local SEO strategy.