As a multi-billion dollar industry, influencer marketing is a new approach that reinforces the importance of influencers in today's society. This type of marketing goes beyond traditional celebrity endorsements and emphasizes the trust and authentic connections that influencers build with their followers. 71% of influencers believe that authentic storytelling and engagement are key to developing these relationships (Altimeter Report).
People relate to these influencers because of shared interests or the guidance and expertise they can provide—which includes what products to buy and the brands they should follow. The important thing to remember is that an effective influencer marketing campaign doesn't necessarily require a top or macro-influencer. Niche and/or micro-influencers with specific target audiences can more directly align with a brand's consumer base.
So a beauty brand, for example, may find it more strategic to partner with a beauty influencer that has a smaller audience rather than a big influencer with a broader, less targeted audience. It's all about building genuine, organic connections.
With video content being one of the most popular forms of marketing content, influencers utilize digital mediums such as Instagram Live and TikTok videos to endorse brands and their products. It is no surprise that many of the successful TikTok ad campaigns go viral because of influencer endorsements and partnerships. They can also use their reach to spread impactful messages, which is a strategy that many policy and advocacy-focused organizations are currently adopting.
For more information about key features and trends in this industry, check out the Top Current and Future Influencer Marketing Trends for Brands in 2021.
The Primary Duties of an Influencer Marketing Agency
While there are a few agencies that specialize in influencer marketing, many agencies are beginning to incorporate this strategy into the core services they provide to their clients.
Identify relevant influencers and niches that align with a brand's identity and marketing goals
Act as a middleman to establish partnerships between brands and influencers
Develop marketing and content strategy for campaigns

Potentially create or manage influencer content and posts

Provide analytic reporting on success of campaigns

I.e. Engagement rates, conversion rates, web traffic, ROI
Here are the Top 20 Influencer Marketing Agencies.

Brenton Way approaches Influencer Marketing differently, by putting growth strategies first and facilitating multiple influencer partners to achieve maximum conversions. Their approach includes an emphasis on rapidly growing brand awareness and impressions. They also use proprietary technology to craft targeted, creative content for their clients.
Services
Paid Social Integration
Influencer Marketing
Content Strategy & Promotion
AI Content Repurposing Technology
Unique Influencer Database
Analytic Reporting

Fohr is a pioneer in the influencer marketing space. They develop a diverse range of campaigns that connect the best influencers with the right brands. Their unique Ambassador Management Platform serves as an impactful resource that allows brands to establish partnerships with influencers that authentically engage with their target demographic.
Services
Brand Work & Press
Instagram Business Data
Creative Direction
FTC Compliance
PDF Press Kits
Access to Robust Influencer Community
Verified Reach & Analytics

It's in the name—this influencer marketing and talent agency is responsible for some of the most successful, viral campaigns globally. It also represents many of the popular influencers on platforms such as Instagram, TikTok, and YouTube. Their top clients include Disney, Nestle, Coca-Cola, and McDonald's.
Services
Social Experiential
Strategy
Creative & Content
Performance Marketing & Media
B2B

It's obvious that this agency would be on the list. Obviously is a full-service agency that specializes in CPG, E-commerce, and Fashion. They have an impressive database of 400,000 influencers that they partner with to create tailored marketing campaigns for their clients. Google, Lyft, Amazon, and L'Oreal Paris are among the top brands they've worked with.
Services
White Glove Service
Network Management
Influencer & Social Strategy
Live Events
Customer Acquisition

Specializing in SaaS, Audiencly connects more than 5,000 influencers with various brands world-wide. They use data and analytics to create successful campaigns for their clients. The agency is also a TikTok partner and has notably worked with IBM, MarketWatch, Yahoo Finance.
Services
Creative
Influencer & Channel Management
Social Media Marketing
Paid Media
Event Management
Product Distribution

IMA specializes in SaaS, CPG, and E-commerce. It's a full-service agency that identifies the right influencers for conversion-based marketing campaigns. They also execute in-house production and have worked with big brands like Samsung.
Services
Social Media Advertising
Campaign Management
Production & Content
Legal & Compliance
Social Listening
Influencer Strategy
Reporting

Socialfly is a women-led team that uses its expertise to create tailored strategy and campaigns that resonate with women audiences on social media platforms. They also focus on growth hacking and analytics.
Services
Paid Media
Creative
Influencer Strategy
Social Media Strategy

NoGood creates influencer campaigns tailored to each client's needs. Specializing in SaaS, E-commerce, DTC, and B2B, this agency works with start-ups of all kinds. They've established partnerships with Google, TikTok, HubSpot, and Facebook.
Services
Social Ads
CRO
Email & Video Marketing
SMS Marketing
Performance Branding

Kairos Media is where "science meets art". Its team creates impactful, creative campaigns backed by data insights. It has collaborated with over 75,000 influencers in 1,500 campaigns. Notable brand partners include KFC, LG Electronics, and Kellogs.
Services
Creative Strategy
Content Production
Social & Influencer Strategy
Data & Insights
Paid Media

A pioneer in TikTok influencer marketing, this agency's clients include Fortune 500 companies and SMBs. They provide innovative digital campaign services geared toward Gen Z and Millennials. Notable partners include Universal Music Group, GrubHub, and Snapchat.
Services
TikTok Ads Creation & Management
Influencer Talent Management
Content Creation
Personal Branding (Influencers)
ROI Reporting & Analysis

Moburst provides brands and influencers with a 'burst' of energy, excitement, and targeted strategy. The agency also specializes in mobile and app marketing and primarily works with enterprises in retail and telecommunications. Notable clients include Pfizer, Uber, and Google.
Services
Mobile Strategy
Product
Creative & Design
App Store Optimization
Paid Media
Video Production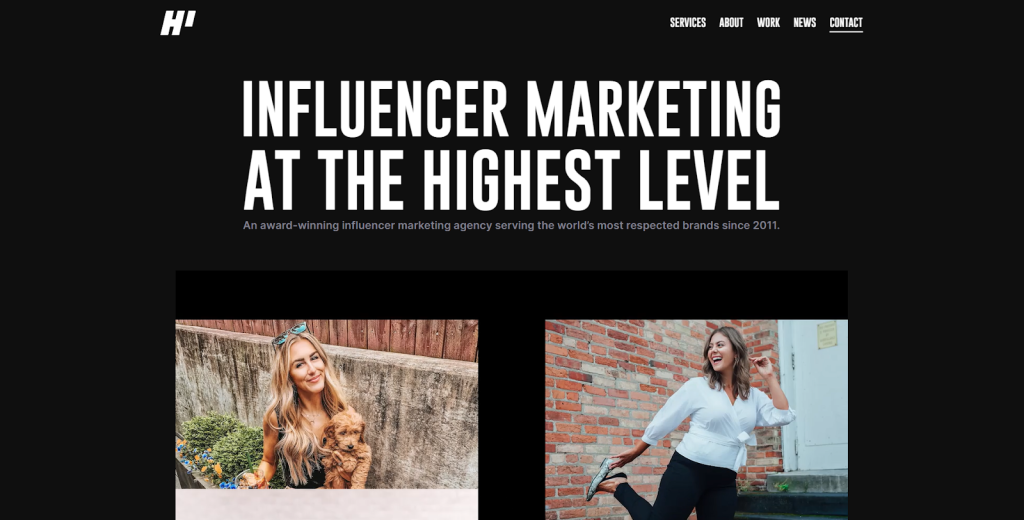 HireInfluence is known for working with key influencers and providing brands hands-on talent curation so you can find the right partner. For the data-driven marketers, they also include a customized marketing dashboard accompanied by their data scientists so you are able to receive maximum conversion.
Services
White Glove Service
Big Brand Experience
Data Scientists
Metrics & Reporting

August United is a full-service agency that believes everyone has the power to become an influencer. As "influencer marketing mavericks," they connect brands with the appropriate influencers in creative ways to maximize brand awareness, traffic, engagement, and sales.
Services
Influencer Strategy
Network Development
Content Creation
Experiential Marketing
Metrics & Reporting

Trend specializes in micro-influencers and is the only marketplace with a coordinated network of 5,000 influencers. The agency also incorporates proprietary software that allows brands to connect with influencers through an automated system. Influencers are available for campaigns at a conveniently fixed rate.
Services
Curated Influencer Network
Campaign Management Suite
Brand Awareness
Creative Content
Sales & Engagement

Zorka provides each client with fair risk assessment and ROI-focused marketing strategies. As an app and influencer marketing agency, they have a database of 300,000 influencers across 90 countries. They also offer specialized services to scale startups faster.
Services
Creative Strategy
Auto Funnels
SMM & Community Management
Performance Marketing
App Development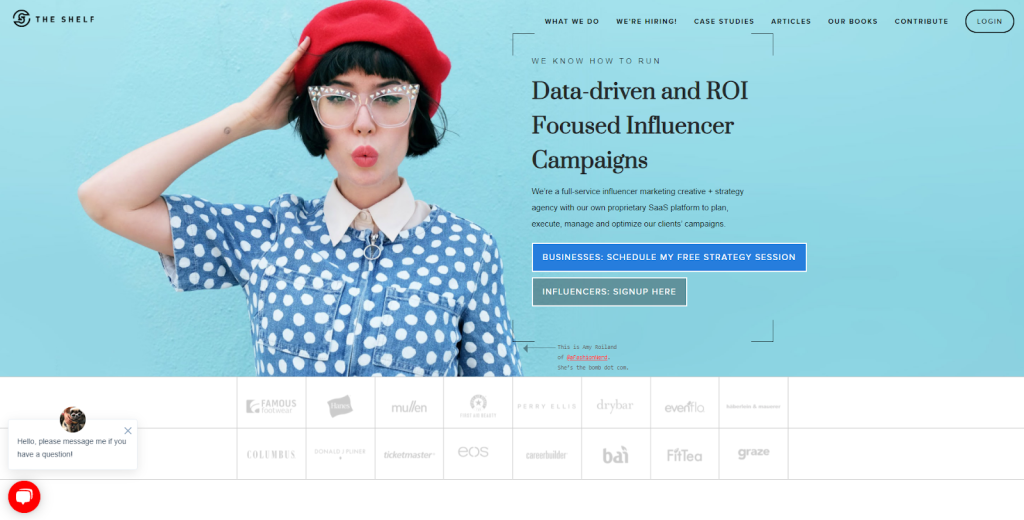 The Shelf is another agency that focuses on data-driven marketing but their approach is by understanding the unique characteristics of the influencers they select. By looking at their audience's interests, they are able to make more objective decisions on their influencers.
Services
Influencers Dashboard
Performance Marketing
Instagram Influencer Marketing
TikTok Influencer Marketing
Auto Funnels

Mediakix offers a comprehensive range of influencer marketing services that takes advantage of the latest trends and features on social media platforms. They've run influencer campaigns for some of the largest brands. Notable clients include Facebook and LG.
Services
TikTok Influencer Marketing
YouTuber Influencer Marketing
Instagram Influencer Marketing
Custom Content
Ambassador Programs
UGC
Reporting & Analytics

AmericaNoize is a women-led agency that has worked with A-list celebrities like Natalie Portman and Al Pacino. They create viral and global social media campaigns through creative tactics such as sponsored content, giveaways, contests, and PR distribution.
Services
Influencer Content Creation
Video Production
Instagram Management
Photography
Web Design
SEO Management

Carusele creates influencer marketing campaigns with high-quality content for consumer brands and retailers. They use real-time analytics to determine the best approach to maximize e-commerce conversions, web traffic, and sales.
Services
Real-Time Data & Metrics
Advanced Targeting
Content Index
Influencer Ranking
Engaged Audience Profile Data

Go Fish Digital uses influencer partnerships to create online buzz and traffic on websites and social media platforms. This strategy includes an emphasis on increasing conversions and brand awareness.
Services
SEO
CRO
Content Marketing
Online Reputation Management
Web Design & Development
Reporting